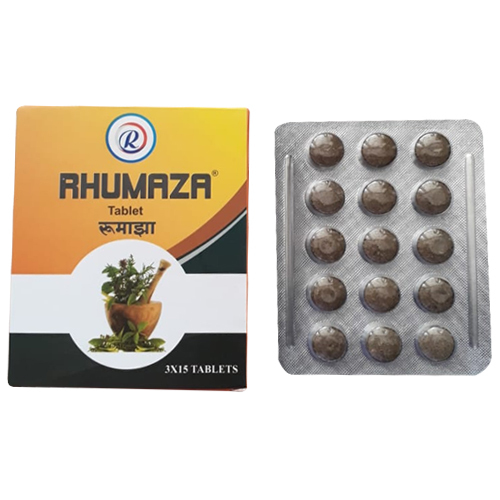 Rhumanza Tablet
Price And Quantity
Product Specifications
Herbal Medicine

Herbal Products
Product Description
Rhumanza Tablet is a natural drug which is synthesized by using naturally obtained herbal ingredients such as sallaki, rasnadi guggulu, baldana, senna, haritaki and various excipients which makes it highly effective and safe to use. It has proven anti-inflammatory properties which makes it effective to relieve pain from the joints. The ingredients used helps to balance the tridoshas and acts as a lubricant for the bone joints. It is available in air tight blister packages with 15 tablets in each packet.
Uses of RHUMANZA -:
1) Very effective in all types of chronic pains,specially rhumatied artistes,spondylitis.
2) Shoulder pains ,joint pains,pain due to over wight as its also helps to reduce the weight and pain.
3) Highly effective pain due to chicken guinea disease.
4) Very effective Herbal medicine in Spondylitis, Frozen shoulders & Rheumatic Arthritis.
5) The holistic approach to relive pain, relives pain and restores mobility.
6) Very effective medicine in the Chikungunya Diseases as it helps to cure Headache, Fever, and Joint and Muscle Pains

RHUMANZA Contains
Sallaki-300 mg Which has proven Anti-Inflammatory and Analgesic action useful in Spondylitis, Muscular Sprain and Strain
Rasanadi Guggul -150 mg which is powerful Analgesic used to treat Headache, Joint pains, and Nerve related pains
Baldana-32 mg Acts as an lubricant in the joints and helps to restore mobility and helps to reduces the weight in obese people
Senna-8 mg is very good laxative and removes constipation and helps to promote weight loss
Haritaki-10 mg is very good Laxative and Carminative and helps to remove toxic from the body, and helps to reduce the blood sugar level and helps to reduce the weight


Doses of RHUMANZA
In severe Rheumatic Arthritis 1-2 Tab 3 times in a day

In Chikungunya Diseases 1 tab 3 times in a Day
Contact Us
Sanjivani Bungalow, Opp. Hotel Patang, Sharanpur Road, New Pandit Colony Nashik Maharashtra India +918037304403
Phone :+918037304403